The orchestra and the Fiddler on the Roof were both a fantastic success last night! The seats were filled and the students did such an amazing job! Thank you Mrs. Rice, the students of UJA, as well as the orchestra students from the Ukiah High School and Developing Virtue Instilling Goodness for all the hard work and effort you put in to the spring concert to make it a great performance! I only was able to get some backstage photos, but here they are!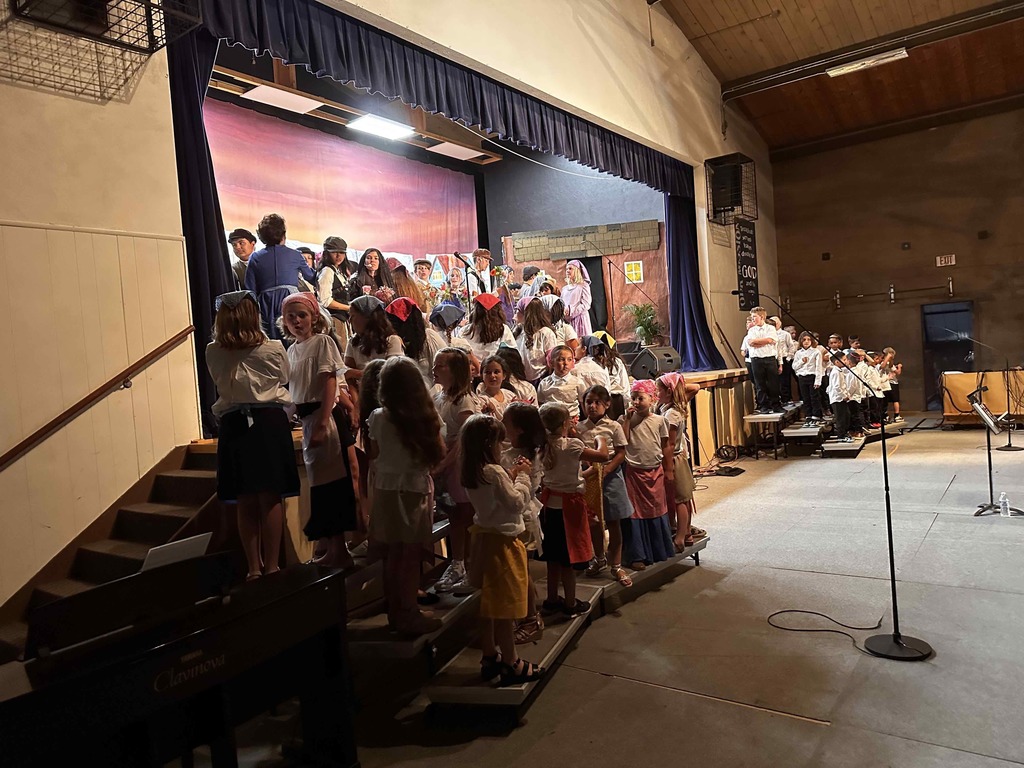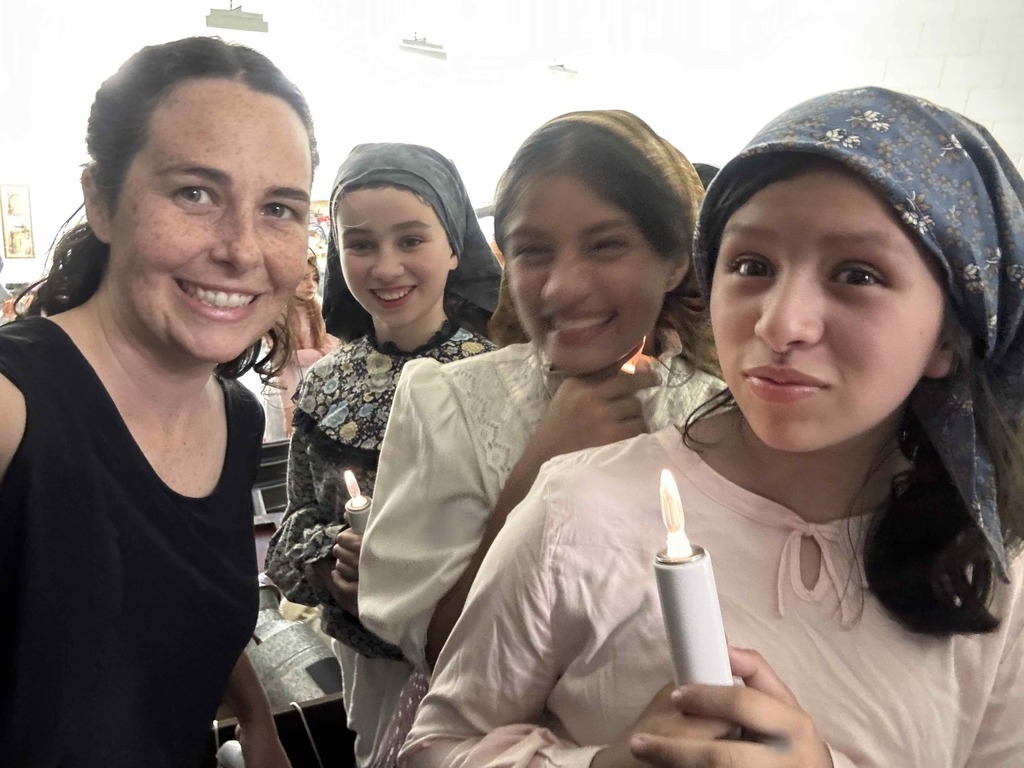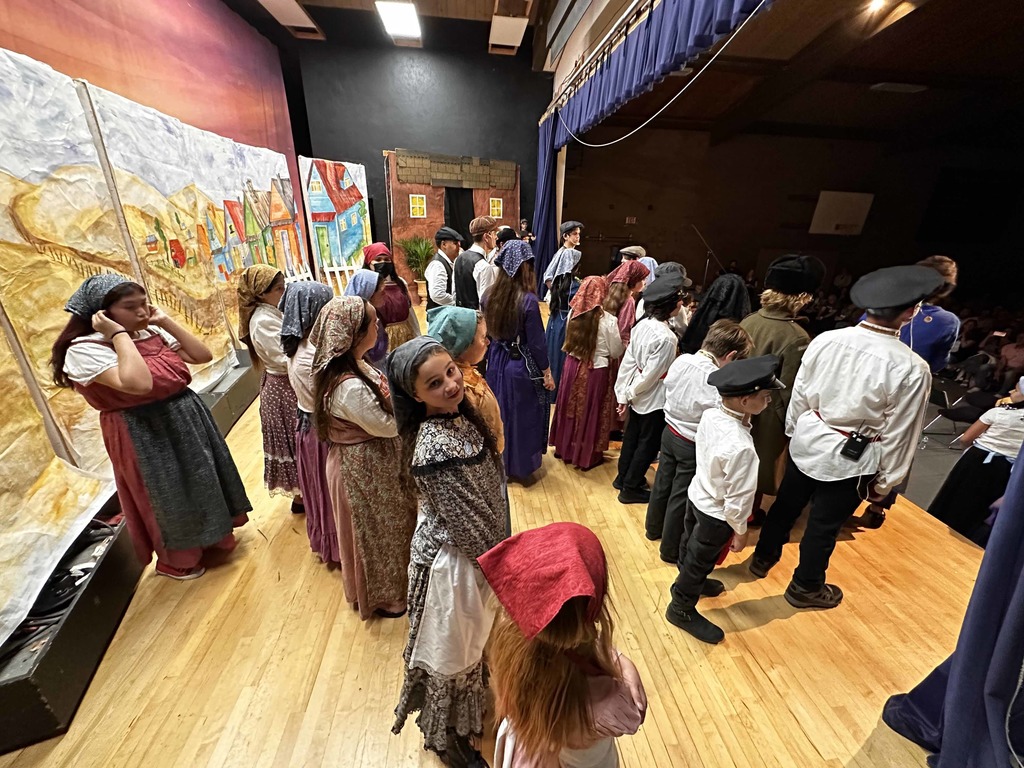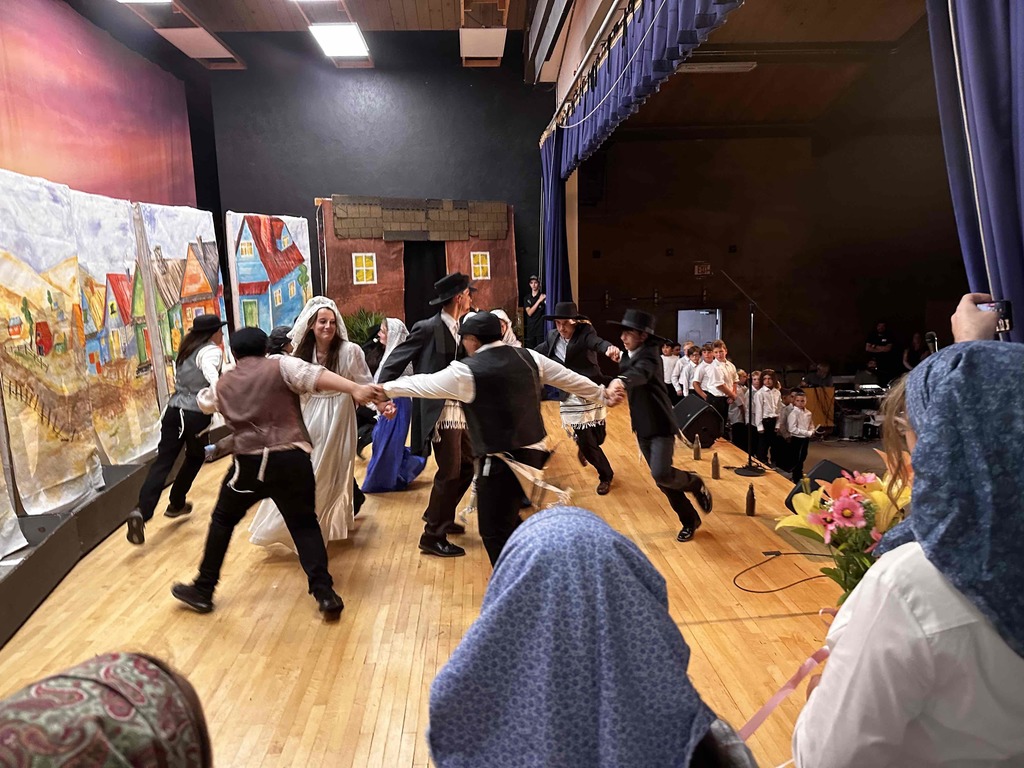 We had dress rehearsal today! Hope to see you all tomorrow night at 6:30!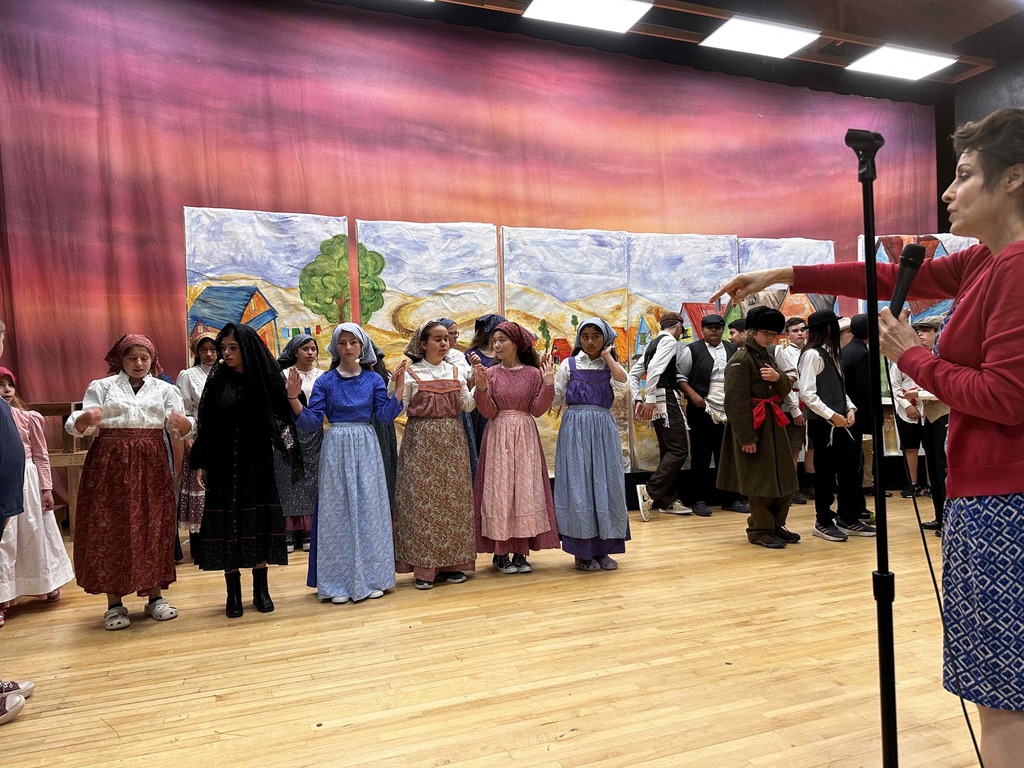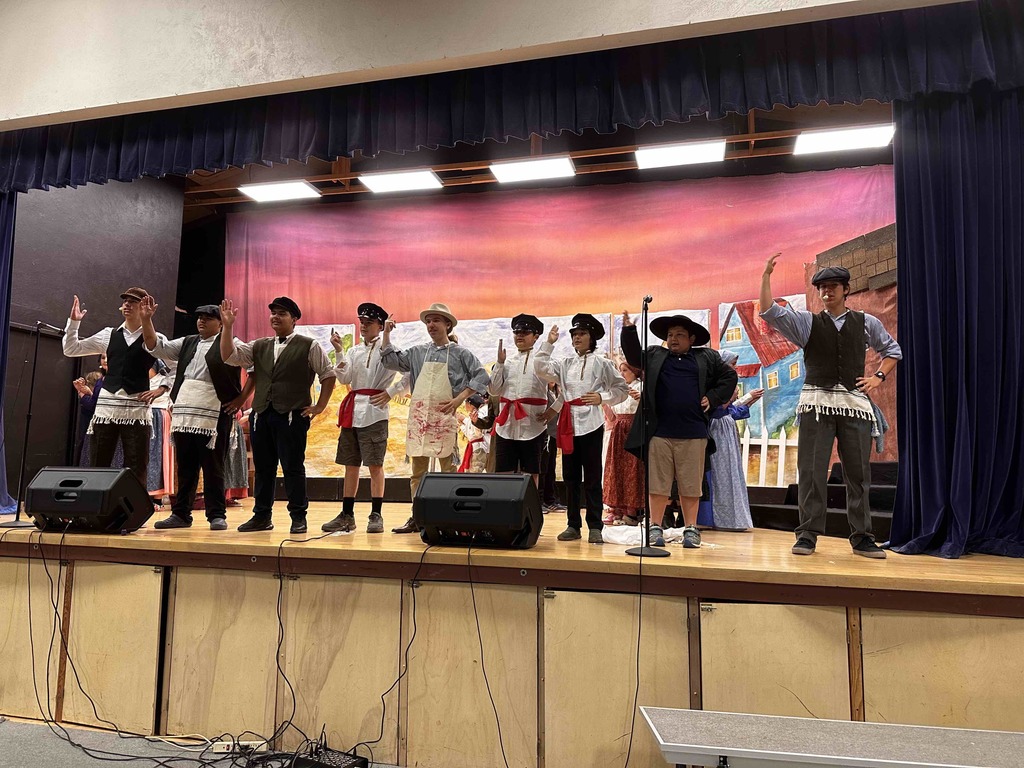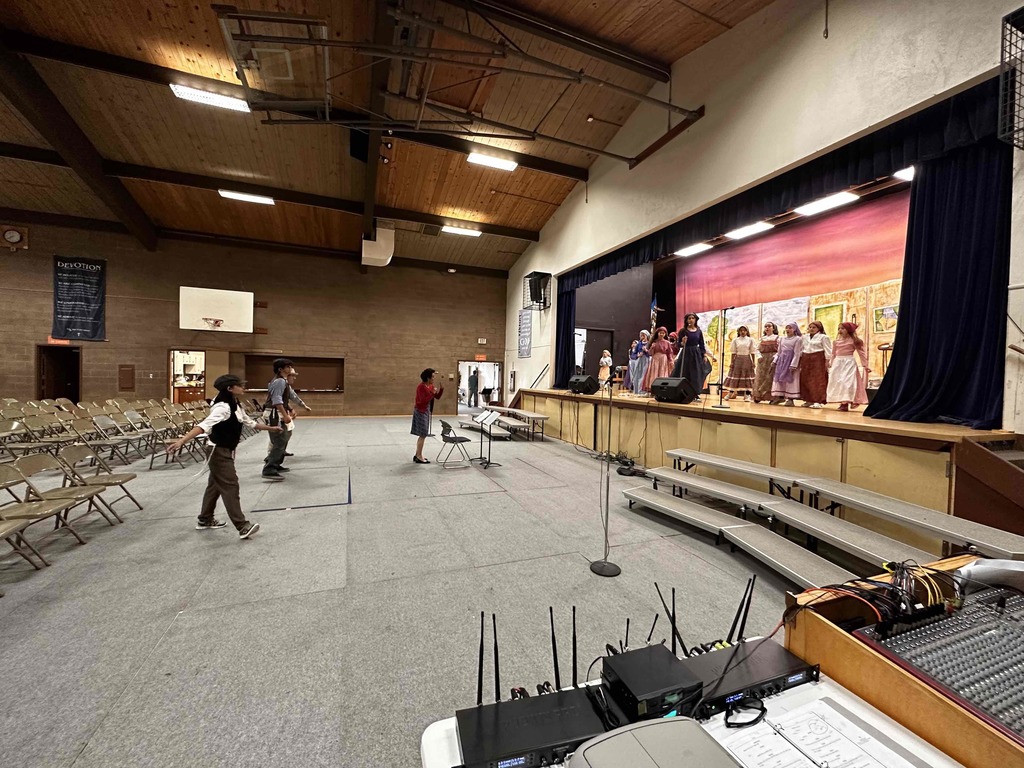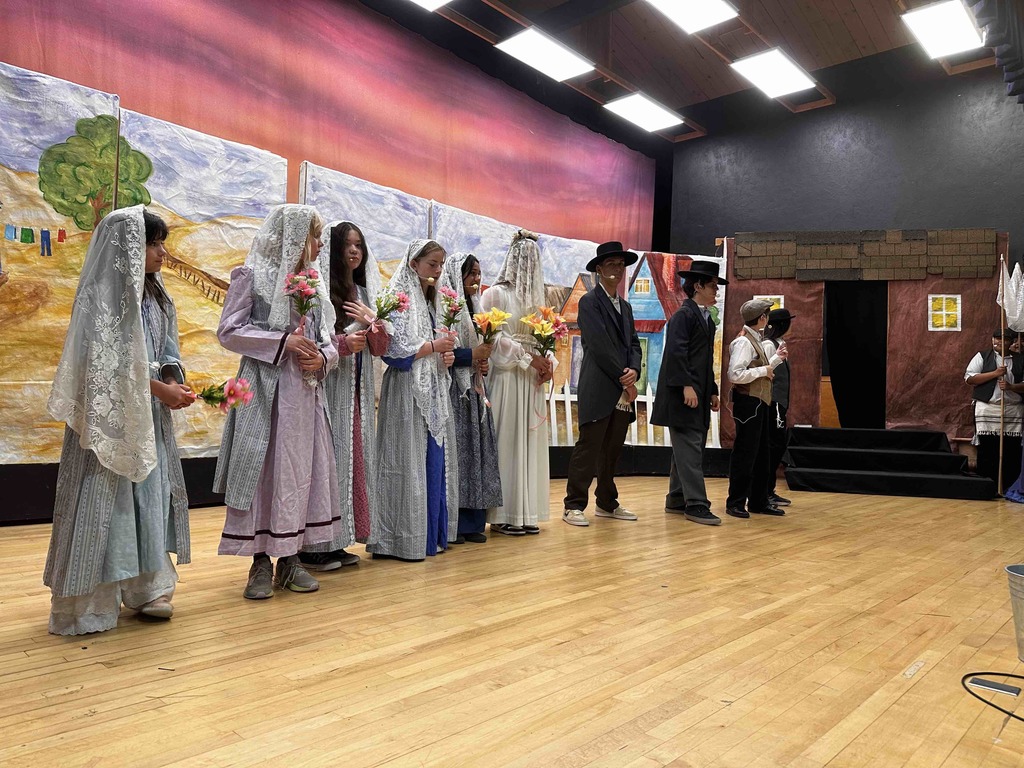 Everyone is practicing for Fiddler on the Roof! Can't wait to see you all at the UJA Gym at 6:30 this coming Thursday!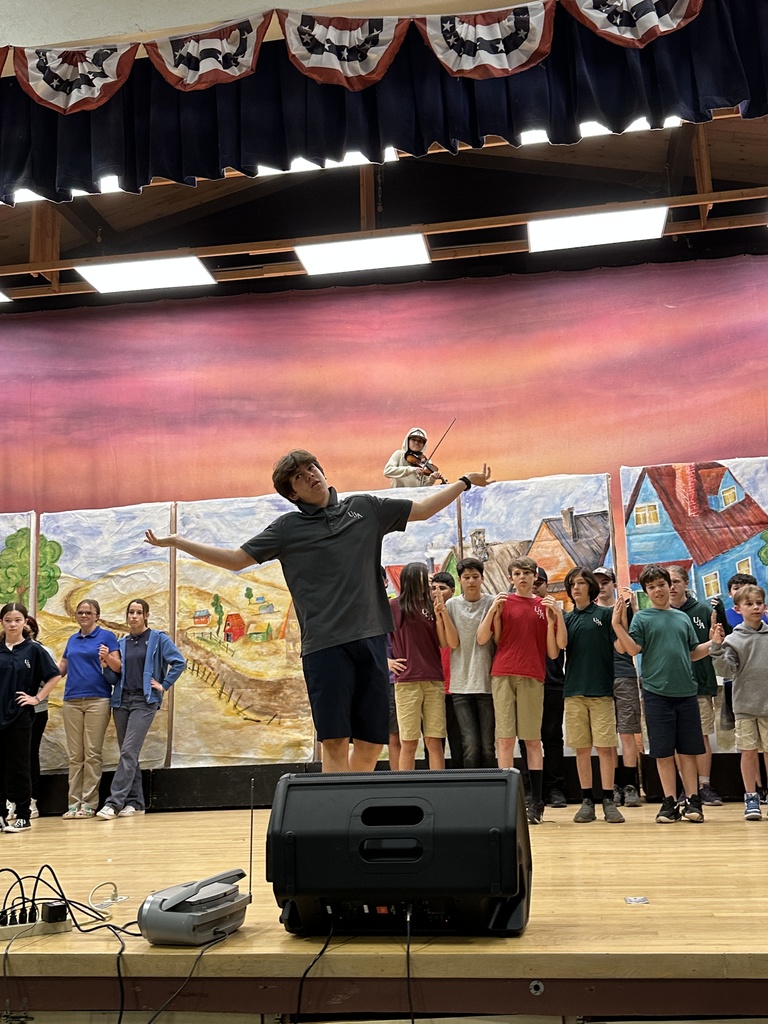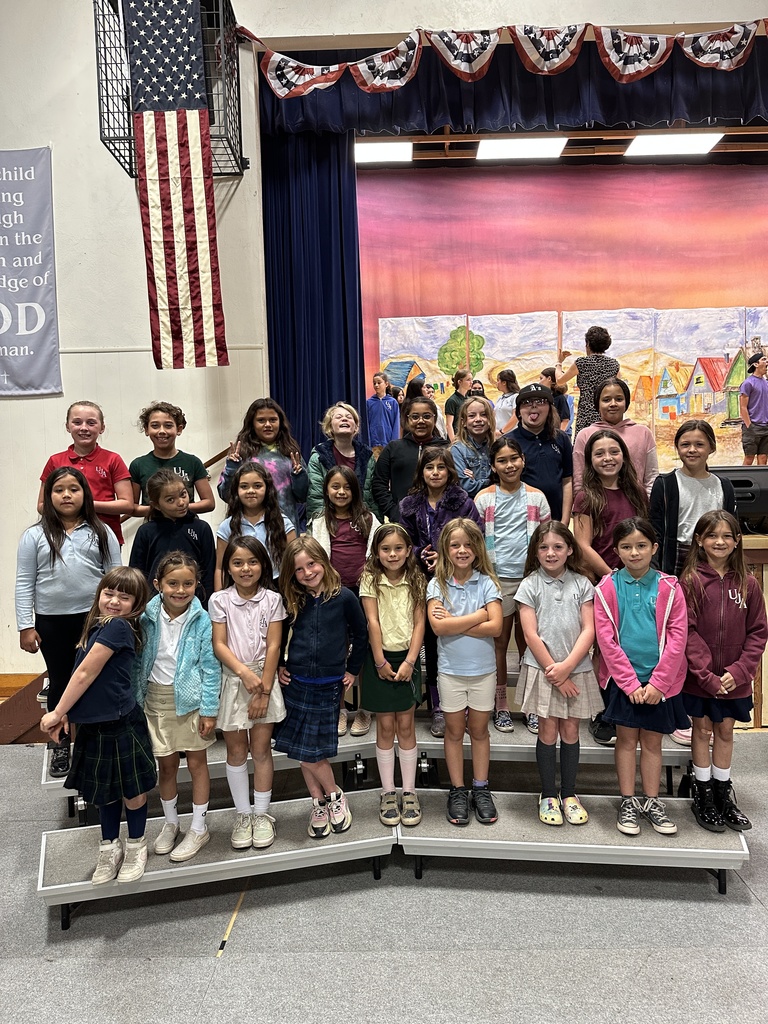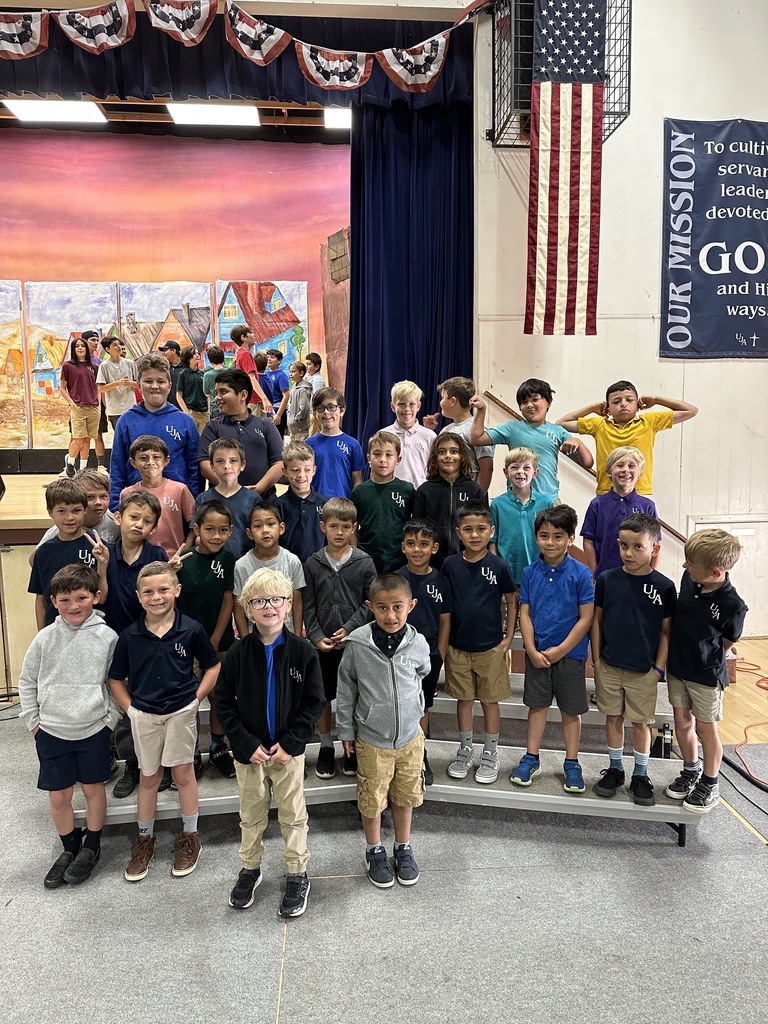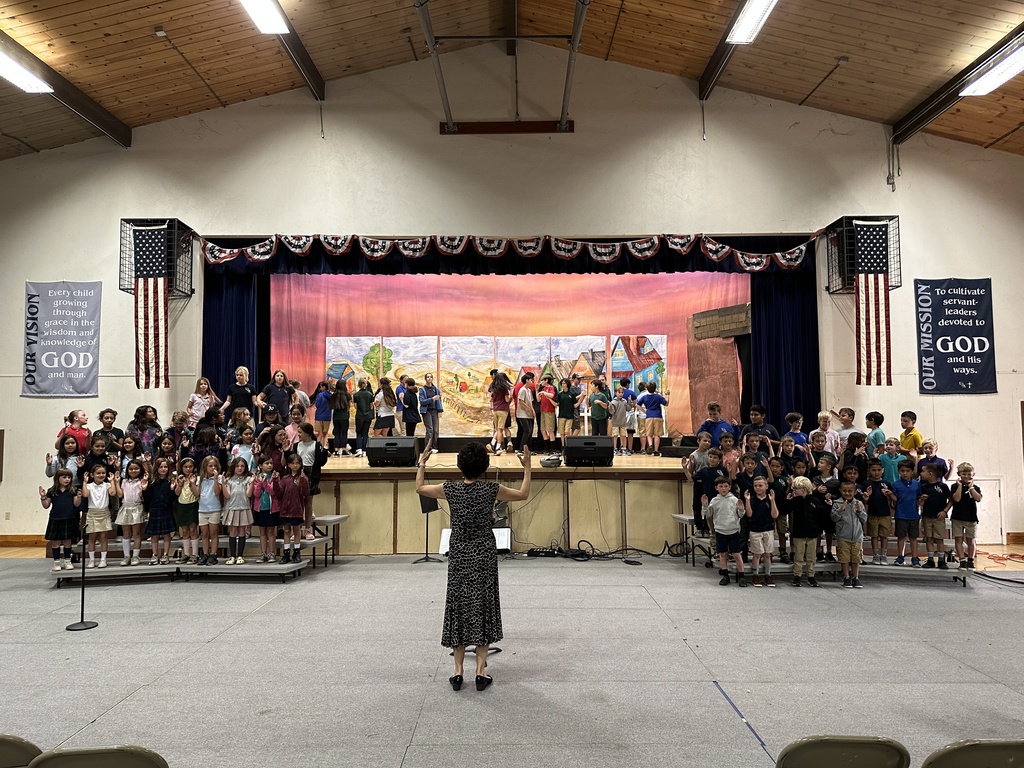 Next week on Thursday, May 25 at 6:30 we will be having our Fiddler on the Roof spring concert! It will be held in the Ukiah Junior Academy gymnasium. We look forward to seeing you there! Here's a sneak peek of yesterday's practice!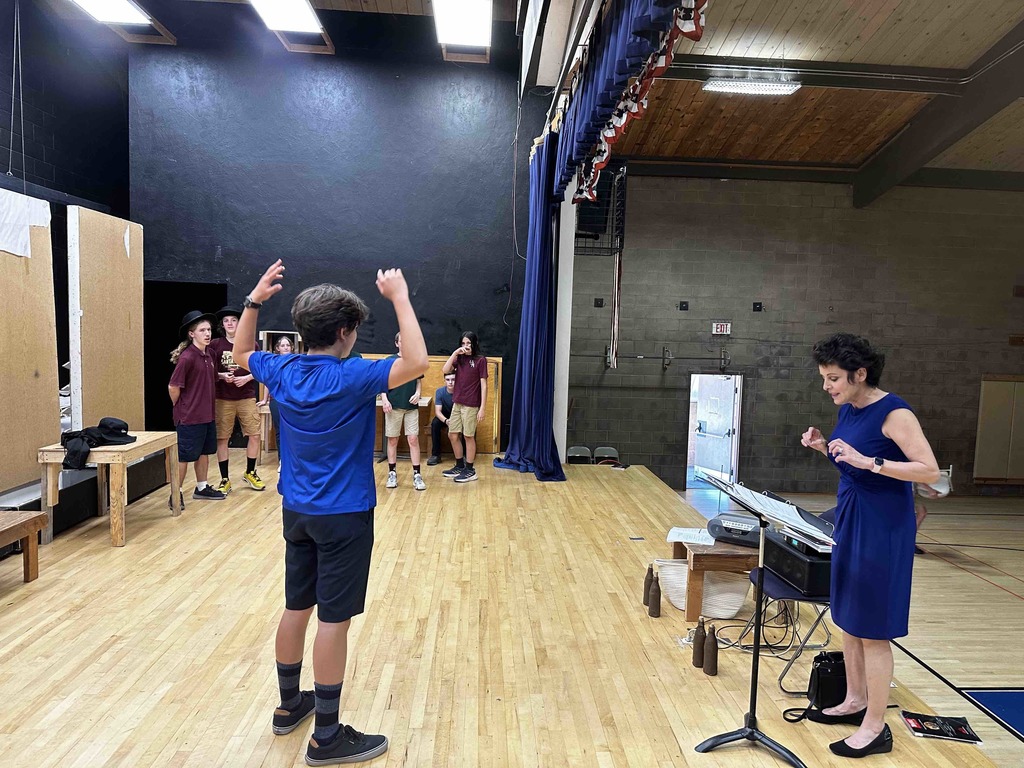 Education Sabbath is two days away! K-4 has been practicing for song service everyday this morning and are sounding great! Strings, Advanced Strings, and K-6 choir will be praising God through song and worship! Come join us! Where? Ukiah Seventh-Day Adventist Church When? ****11:00am church service We look forward to seeing you there! ****Parents, please refer to the text sent out yesterday for when your student should arrive. Strings, Advanced Strings, and K-6 Choir all have staggered arrival times.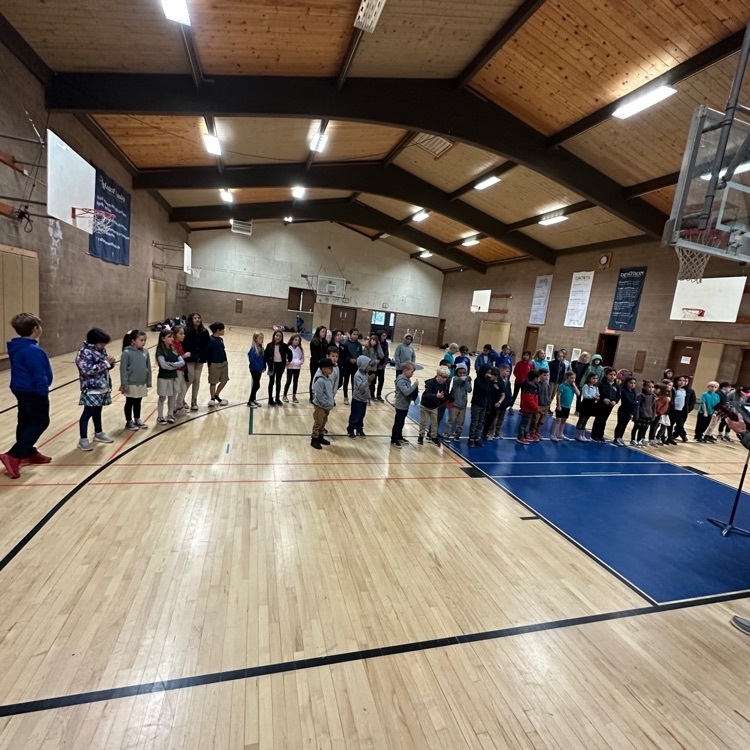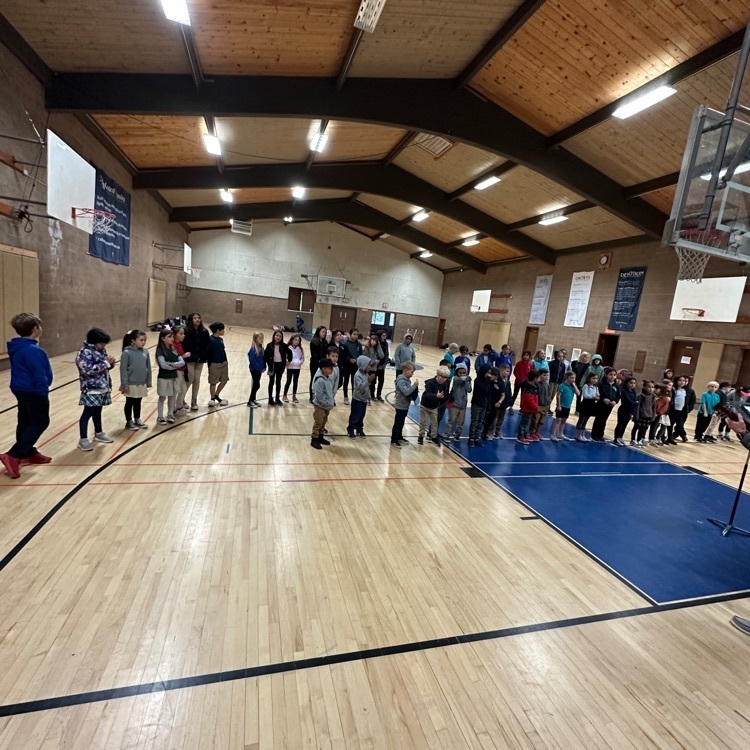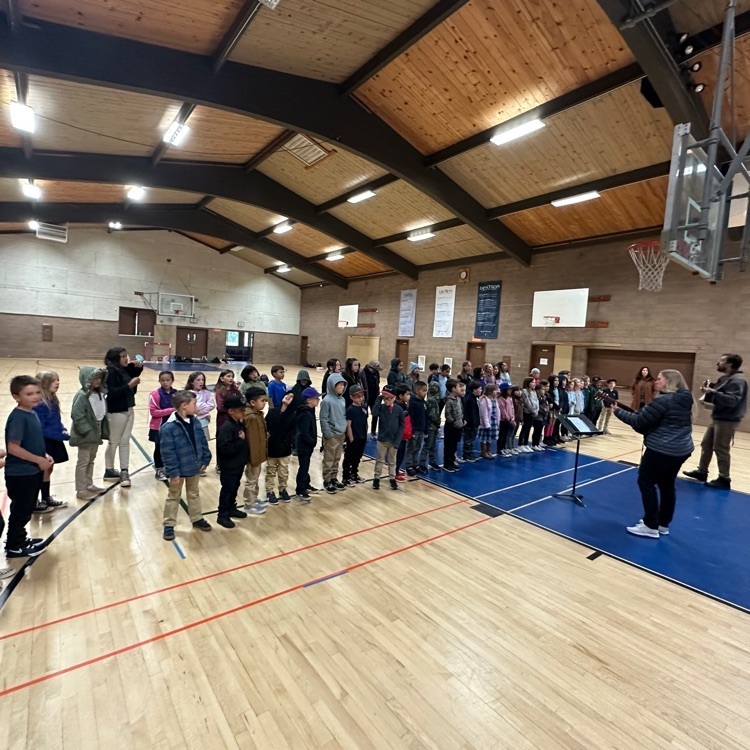 Looking forward to seeing our students this Saturday at our Education Day Sabbath. The service starts at 11:00 with Mr. Nelson as the speaker. Mrs. Rice would like these groups to come early for rehearsal: Advanced Strings -10:00 5-9 Strings - 10:15 K-6 Choir - 10:30 Location: Ukiah SDA Church, 1390 Laurel Avenue

UJA Parents, There is a special church service coming up on Saturday, May 6 at the Ukiah Seventh-day Adventist Church that we call Education Sabbath. This service is a celebration of the school and its program. Many students will have roles in the service. As you may know, this church donates over $300,000 each year to the school to help make Christian education available, and affordable, for those families who desire it. It means a great deal to the members of the congregation to see our students participating in the service. If at all possible I would encourage you to make every effort to attend as a way of expressing thanks for their support and give them the joy that comes from seeing our students participating in the service. The church service starts at 11:00 AM, however, Mrs. Rice may want some to come at 10:30 for rehearsal. Watch for details next week. God bless, Rick Nelson

Hello school family! Since this will be a short week, there will be no hot lunch this Wednesday. So be sure to pack a lunch with your snack that day! We look forward to seeing you all on Wednesday!

Kindergarten Jamboree is happening this next Wednesday March 15!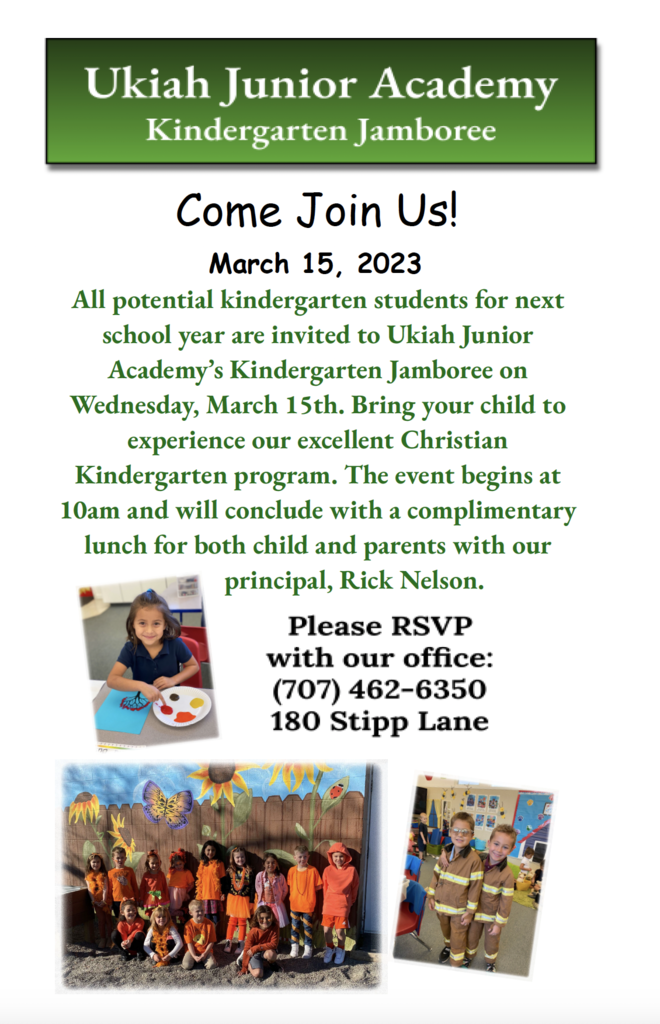 UJA Parents, Our Learning Fair is on schedule to happen this Thursday (March 9) at 6:30. Looking forward to seeing our students share what they have done. There will be no general announcements so simply visit your child's classroom and make sure to check out what some of the other classrooms are doing as well. God bless, Rick Nelson

Grades 7-9 Parents, Due to the hazardous winter weather conditions expected in the Tahoe area this weekend and into Monday and Tuesday, along with our concern for the safety of our students, the ski trip scheduled for this coming Sunday through Tuesday, February 26-28 has been postponed. We are rescheduling the ski trip to March 12-14. Thank you for your understanding and flexibility. God Bless, Rick Nelson

UJA Family, We currently have no power at the school. Also, road conditions this morning could prove to be hazardous. For these reasons Ukiah Junior Academy will not be in session today, Friday, February 24, 2023. Stay safe. See you Monday. God Bless, Rick Nelson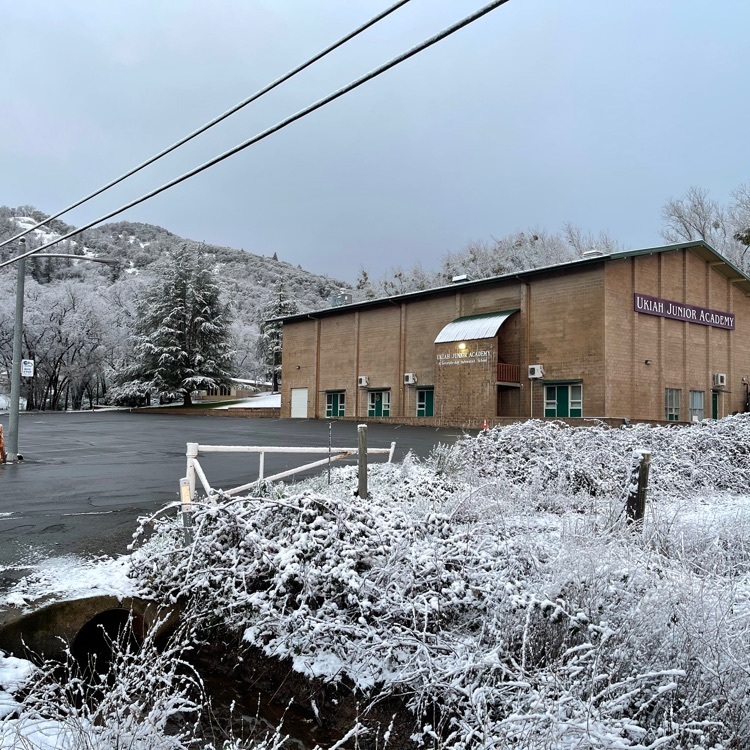 We enjoyed the snow while it lasted, too bad it has pretty much all melted on campus now :(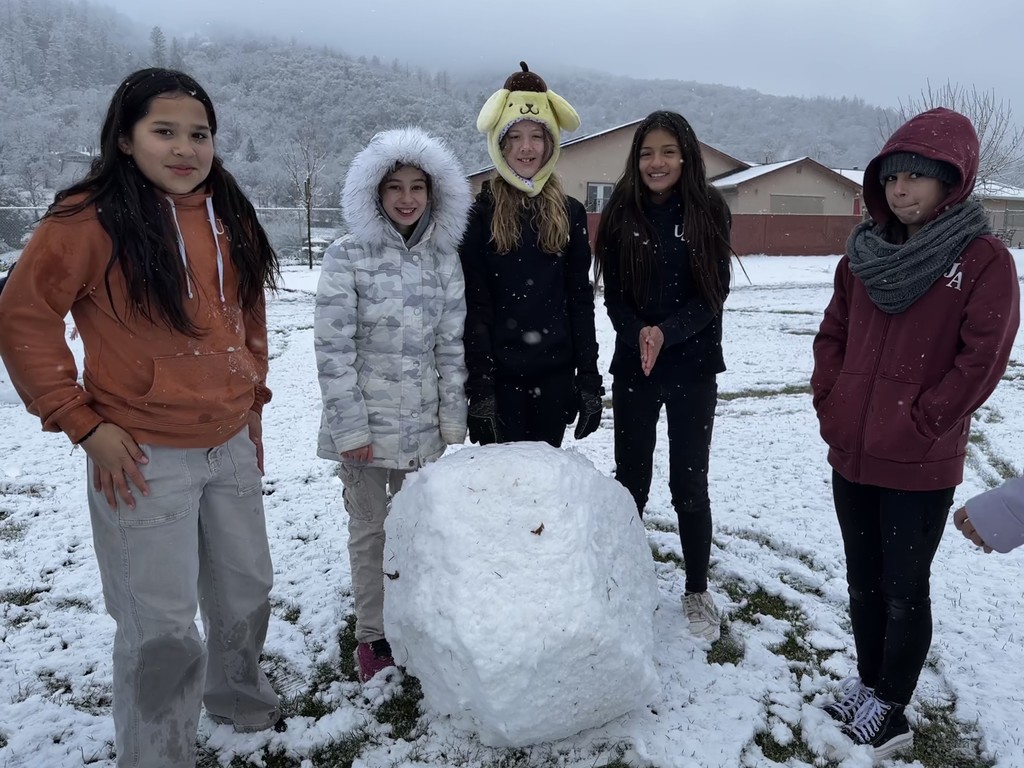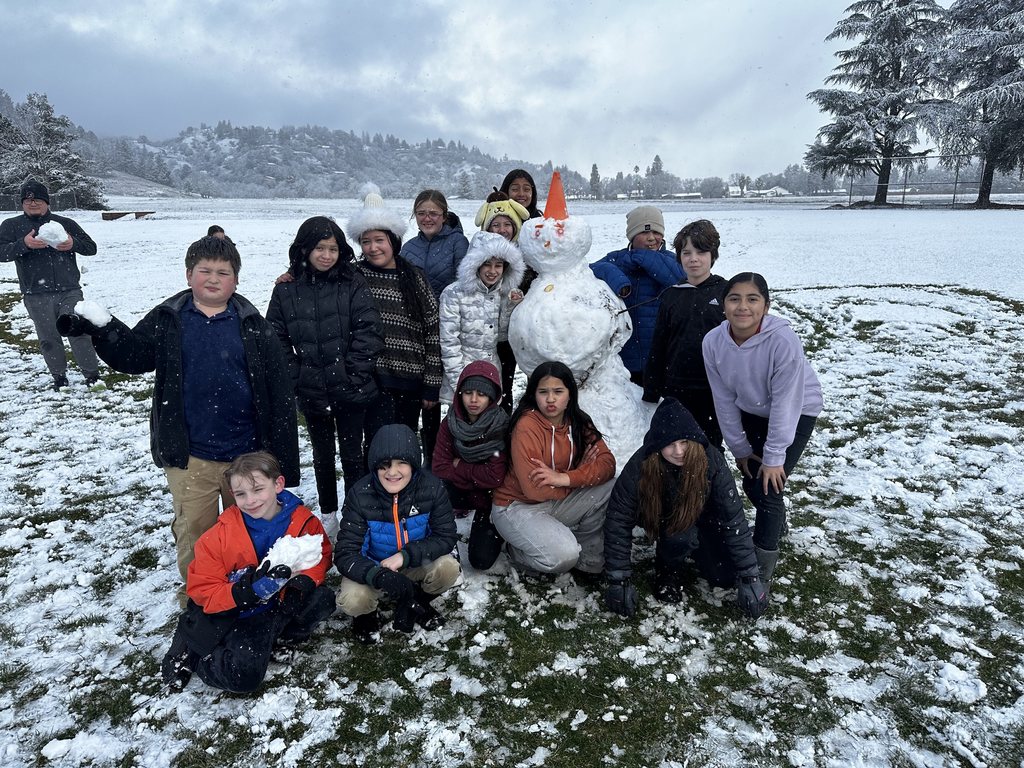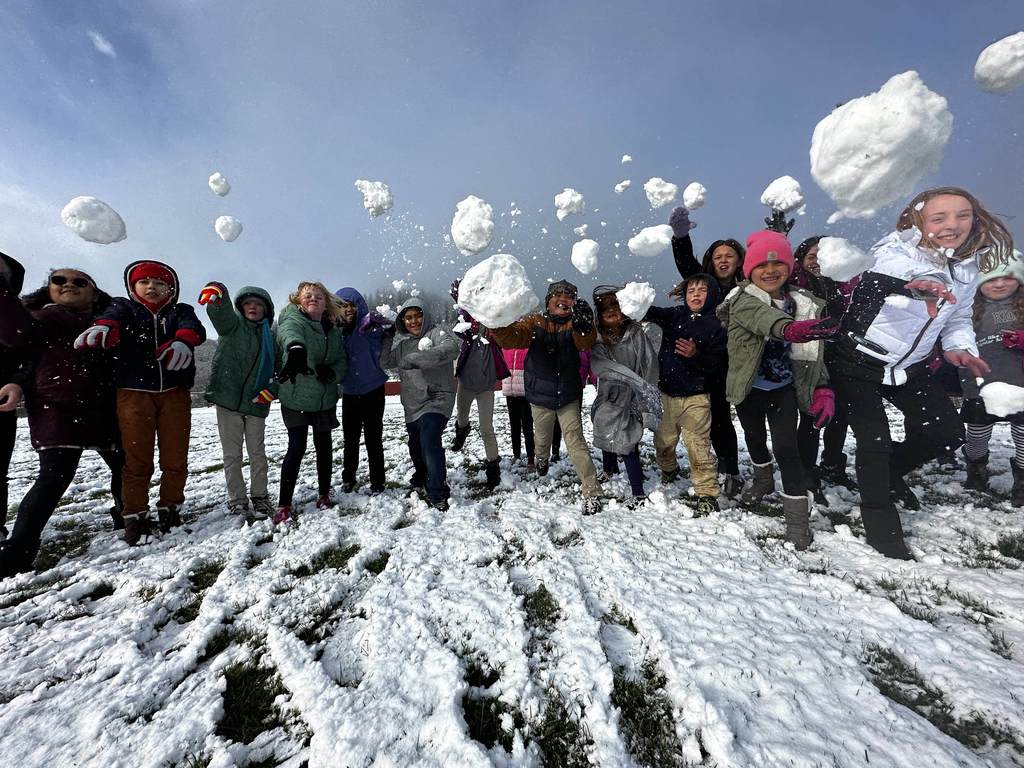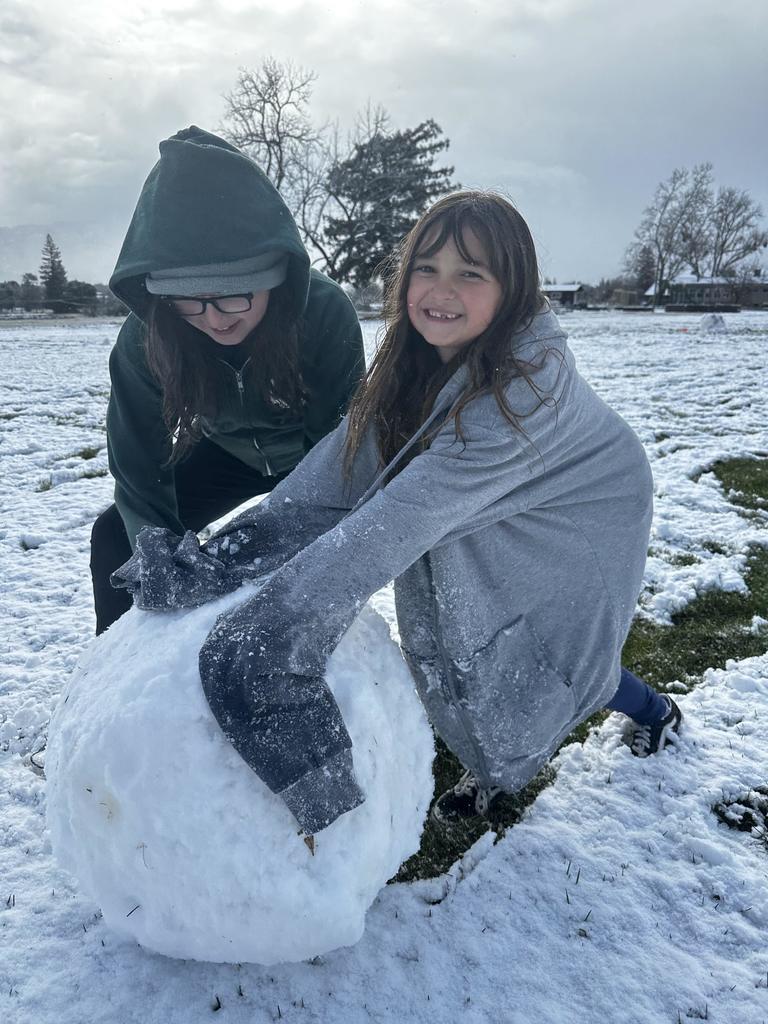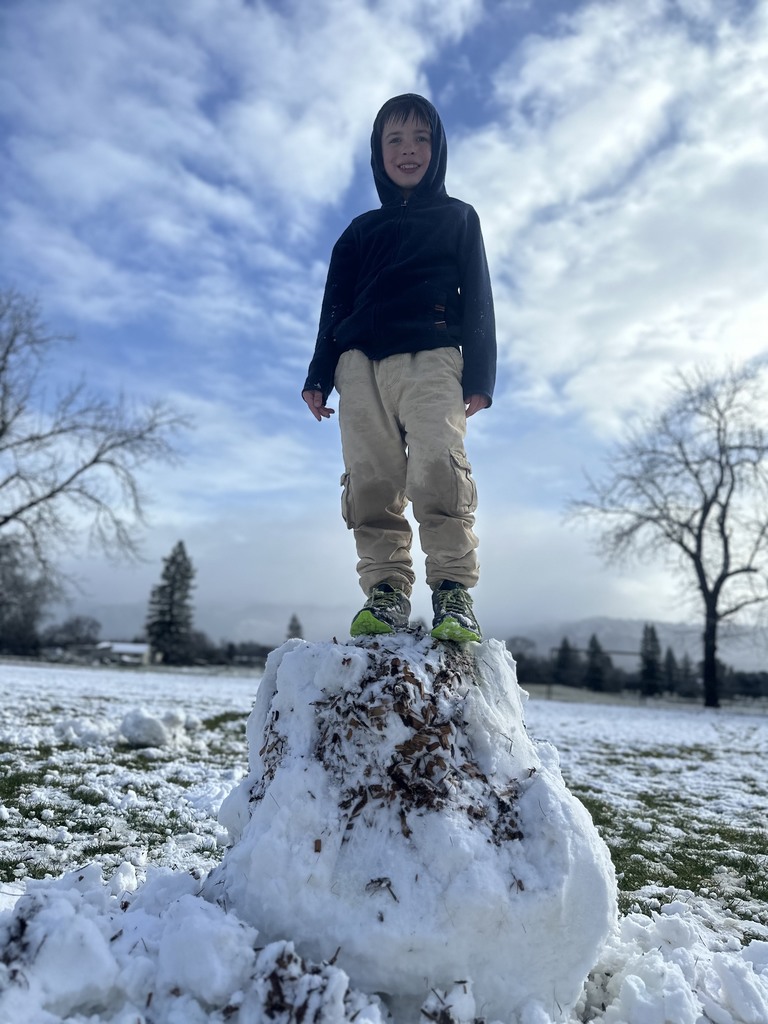 Good morning school family! Due to the snowy weather conditions today, we are going to postpone our Learning Faire until further notice.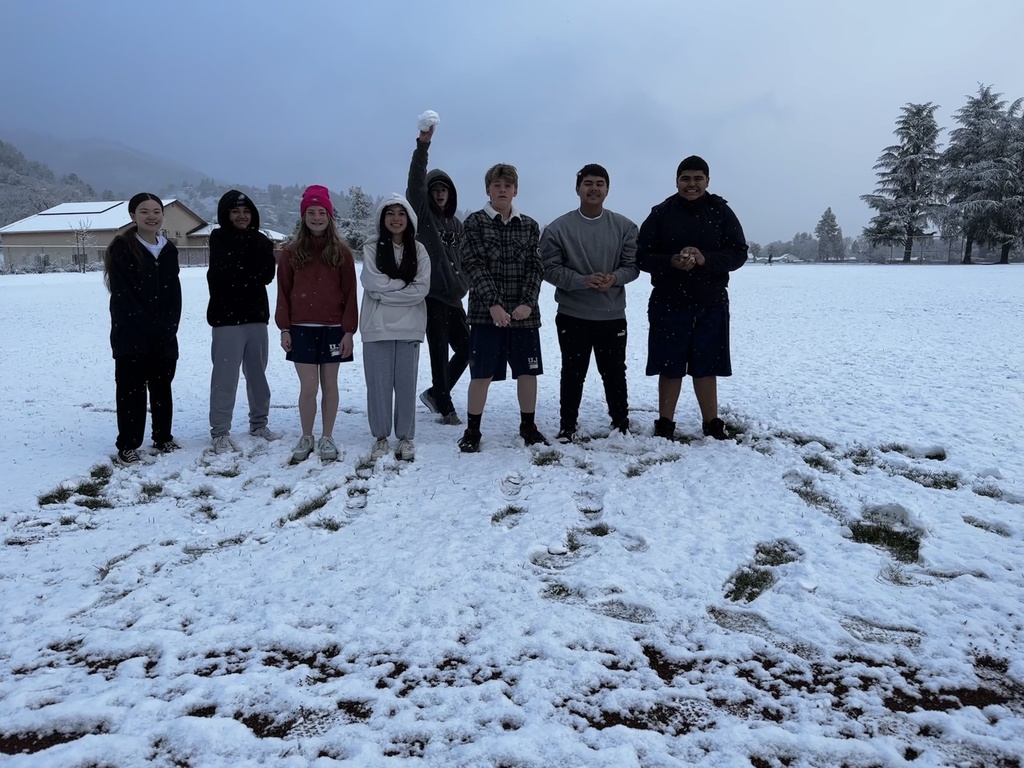 We had an awards ceremony in chapel today! Congrats to all the kids who worked extra hard this last quarter! Code One Award: Roman Vera, Aiden Fischer, Kataliya Cardenas, Braydon King, Elias Kurtz, and Alexis Reedy Perfect Attendance: Elias Kurtz, Evan Rodriguez, and Destiny Wells Good Attendance: Sami Casuga, Beckham David, Nathan Kuntz, Sam Kuntz, Trace Schumaker, Julian Pappas, Alexis Reedy, Aria Thompson, Aleena Vera, and Roman Vera. A Honor Roll: Kimber Horner, Emy Harper, Eden Hurn, Braydon King, Gideon Kurtz, Kalea Boudoures, Kataliya Cardenas, Gia Colombini, Maggie Harper, Arianna Waxman, Mia Allen, Sami Casuga, Nathan Kuntz, Sam Kuntz, Elias Kurtz, Caleb Williams, and Rachel Williams. A-B Honor Roll: Alexis Reedy, Fernanda Trejo, Aleena Vera, Logan Kurtz, Malia Bowen, Willow Galusha, Zoe Galusha, Aria Thompson, Hannah Ashiku, Hadlee Atherton, Orion Mendoza, Jaxton Paeyeneers, Evan Rodriguez, Hyzer Zinn-Smith, Madilyn Harper, Kyler King, and Judah Kurtz.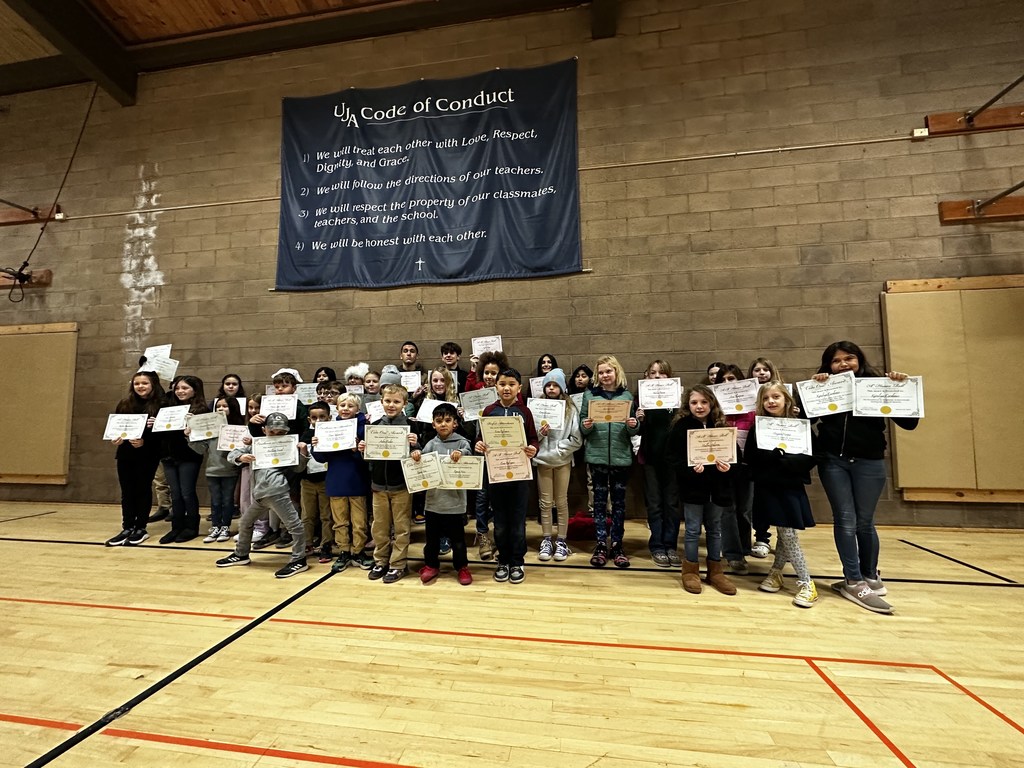 UJA Parents, With the heavy rain, possible flooding, and windy conditions expected tonight and tomorrow, we feel it would be wise to cancel school tomorrow, Thursday, January 5. We expect to resume classes on Friday. Thank you for your understanding. Rick Nelson

We had western day on Wednesday, class color day on Thursday, and then each class had their own Thanksgiving celebration today! This week went by too quick and was great fun! We hope you all enjoy your Thanksgiving week off and we look forward to seeing everyone again back on the 28th! Happy turkey week!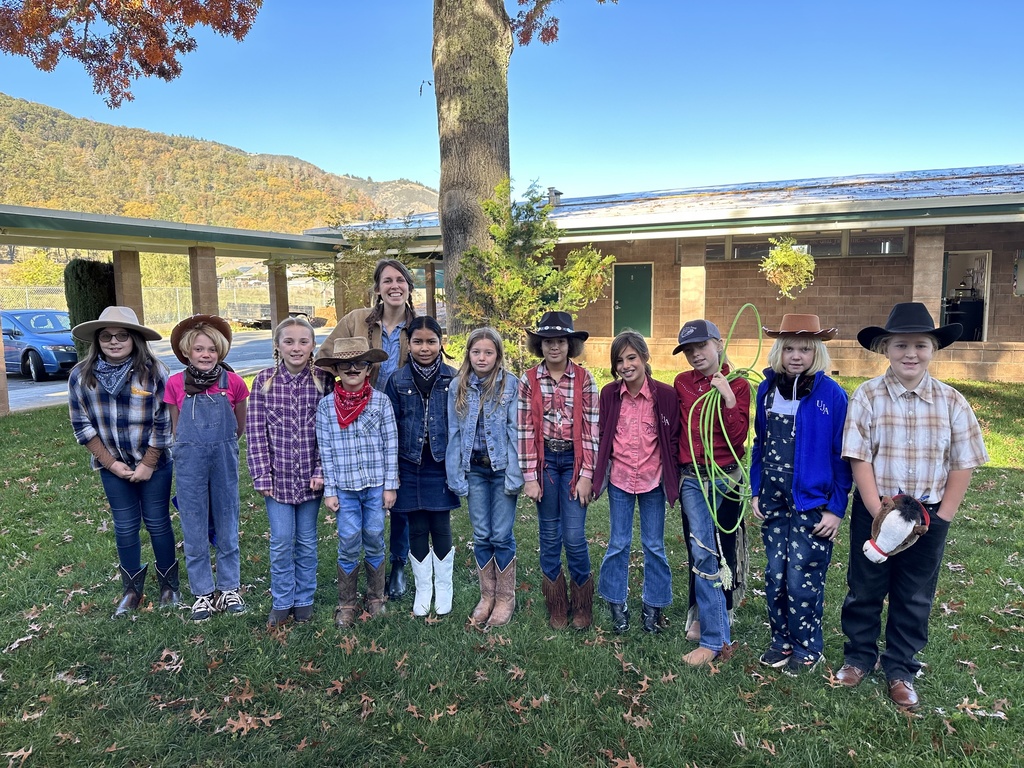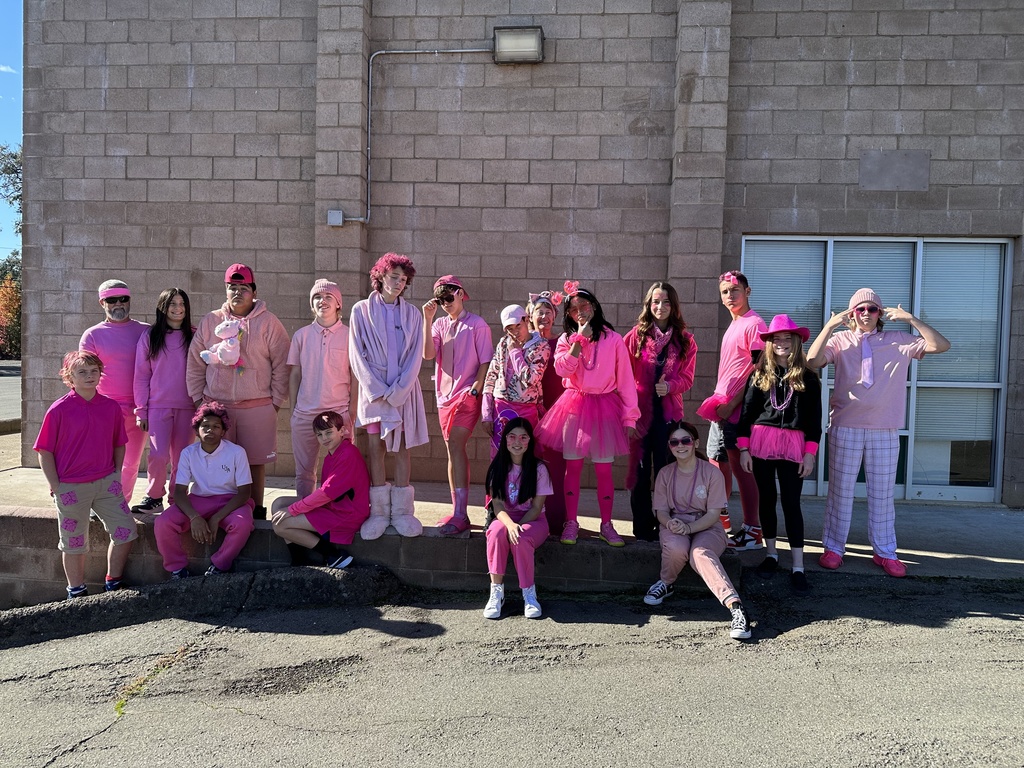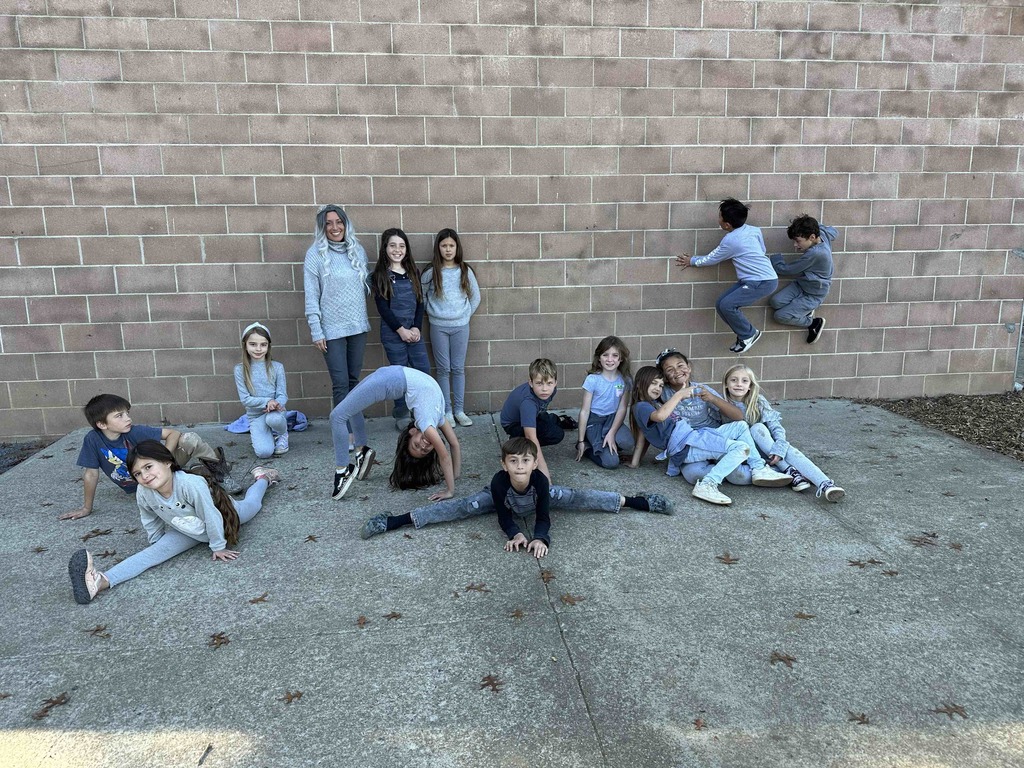 We have had pajama day and sports day so far! Tomorrow is western day, and Thursday is class color day! Can't wait to see what everyone does! Class Color reminder...K: Orange, 1st: Red, 2&3: Grey, 4: Blue, 5&6: Black, 7-9: Pink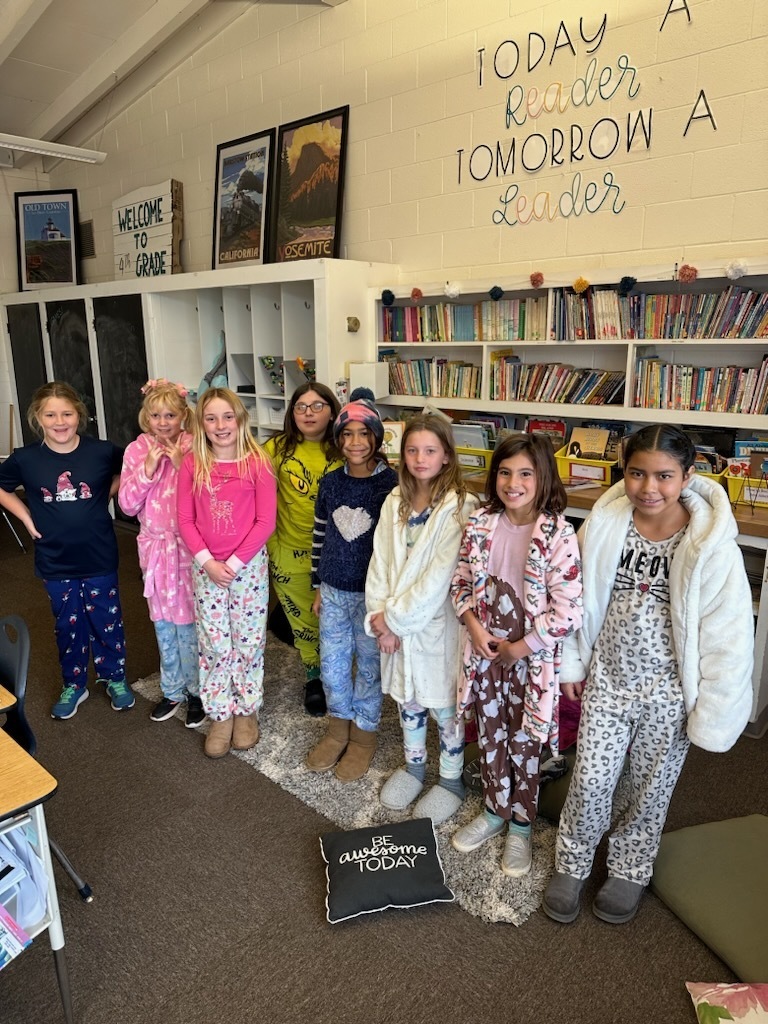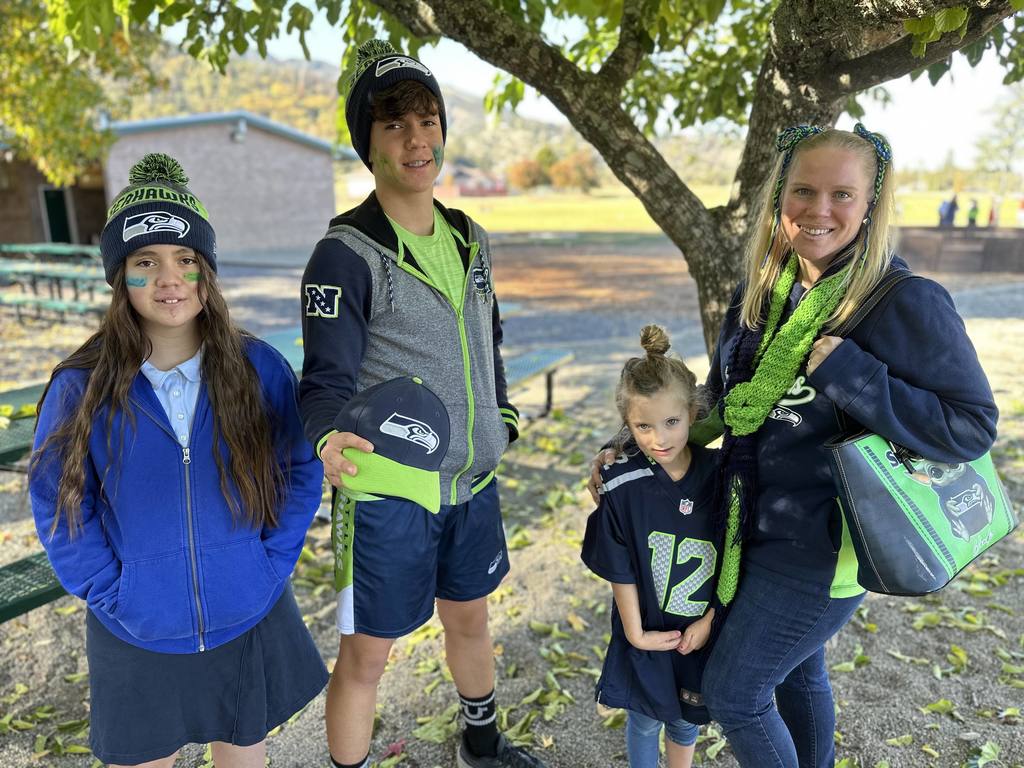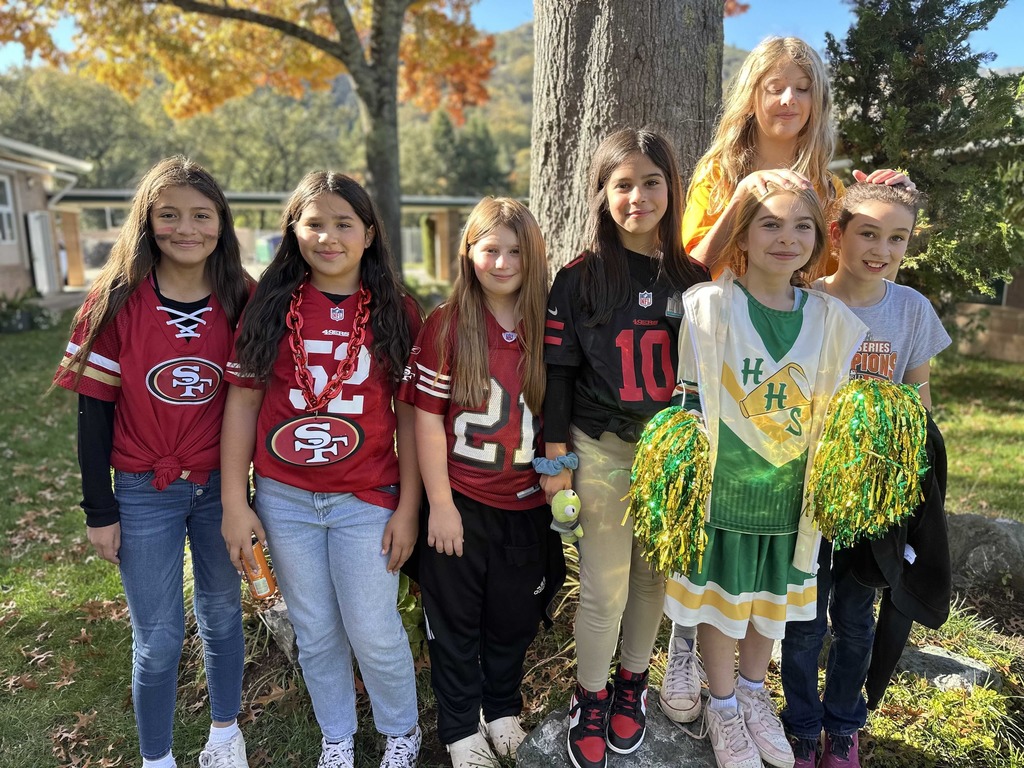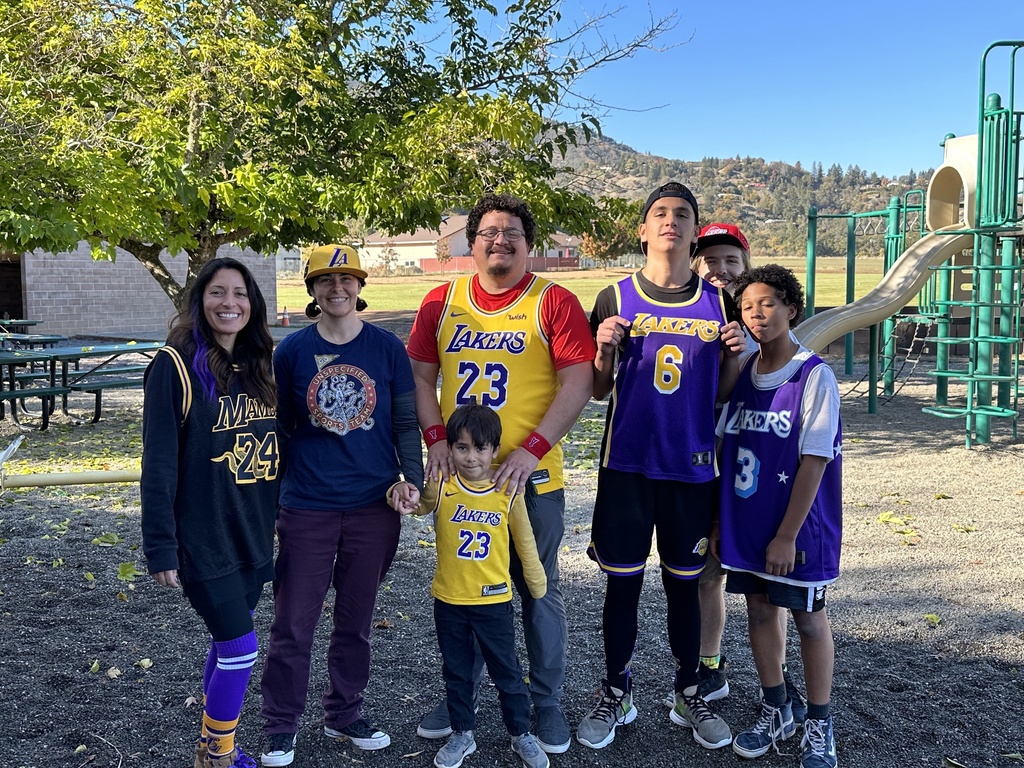 UJA Family Barbeque Picnic Who: UJA Families What: Free Barbeque Pinic with turkey burgers, vege-burgers, bean salad, chips, and more. Playground supervision for the kids with Mr. Oliver and play field supervision with Mr. Garcilazo When: This Sunday, October 9 at 5:00 PM Where: UJA Courtyard Why: Fun - Sharing great food together is always a good time. Family - Getting to know other families in our school community. Free Food - Sponsored by our Home and School Association. Feedback - Short table focus groups while we eat. We are looking to continually improve school quality and your help will be invaluable.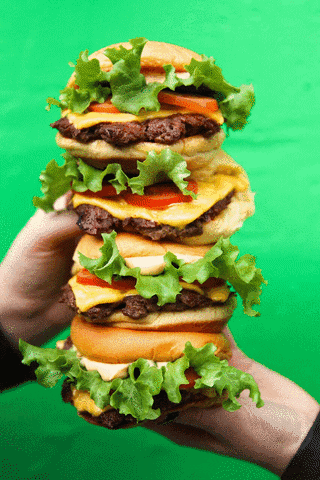 Mr. Oliver's helper is slacking on the job.